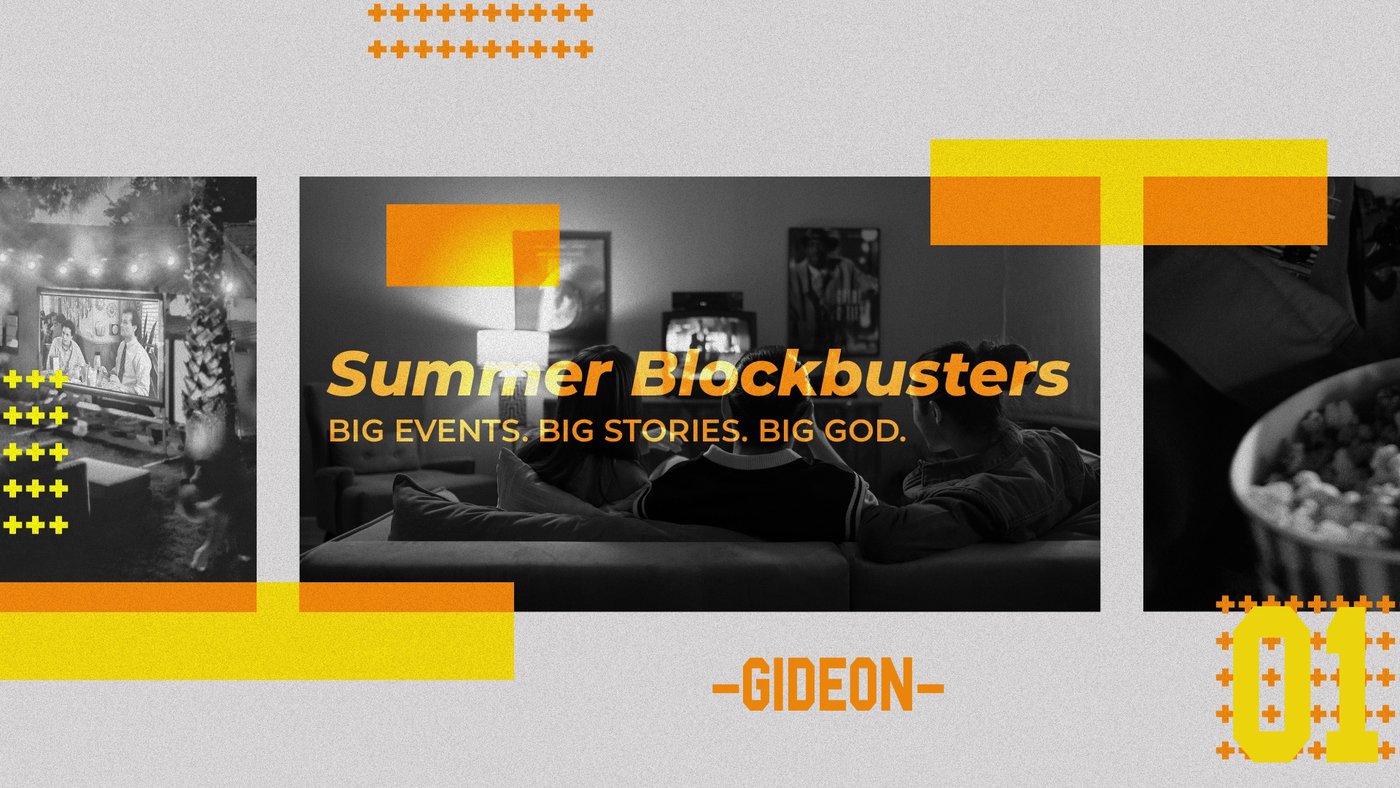 Summer Blockbusters 01: Gideon
7 For God has not given us a spirit of fear, but of power and of love and of a sound mind.
-2 Timothy 1:7 NKJV
1 The Israelites did evil in the eyes of theLord,and for seven years he gave them into the hands of the Midianites. 2 Because the power of Midian was so oppressive, the Israelites prepared shelters for themselves in mountain clefts, caves and strongholds.
-Judges 6:1-2
11 The angel of the Lord came and sat down under the oak in Ophrah that belonged to Joash the Abiezrite,where his son Gideon was threshing wheat in a winepress to keep it from the Midianites. 12 When the angel of the Lord appeared to Gideon, he said, "The Lord is with you, mighty warrior."
-Judges 6:11-12
Gideon's Insecurities
Gideon was afraid God wasn't FAITHFUL
13 "Pardon me, my lord," Gideon replied, "but if the Lord is with us, why has all this happened to us? Where are all his wonders that our ancestors told us about when they said, 'Did not the Lord bring us up out of Egypt?' But now the Lord has abandoned us and given us into the hand of Midian."
-Judges 6:13
Gideon was afraid he wasn't GOOD enough
15 "Pardon me, my lord," Gideon replied, "but how can I save Israel? My clan is the weakest in Manasseh, and I am the least in my family."
-Judges 6:15
What has fear kept you from doing that God is calling you to do?
THE GIDEON: When God uses an unsure, insecure and fearful person to do the IMPOSSIBLE
God's GIDEON Truths
With God, his STRENGTH through your WEAKNESS is exactly enough
14 The Lord turned to him and said, "Go in the strength you have and save Israel out of Midian's hand. Am I not sending you?"
-Judges 6:14
16 The Lord answered, "I will be with you, and you will strike down all the Midianites, leaving none alive."
-Judges 6:16
2 The Lord said to Gideon, "You have too many men. I cannot deliver Midian into their hands,…
-Judges 7:2a
With God, the way FORWARD is often BACKWARDS
2b or Israel would boast against me, 'My own strength has saved me.' 3 Now announce to the army, 'Anyone who trembles with fear may turn back and leave Mount Gilead.'" So twenty-two thousand men left, while ten thousand remained.
-Judges 7:2b-3
25 For whoever wants to save their life will lose it, but whoever loses their life for me will find it.
-Matthew 16:25