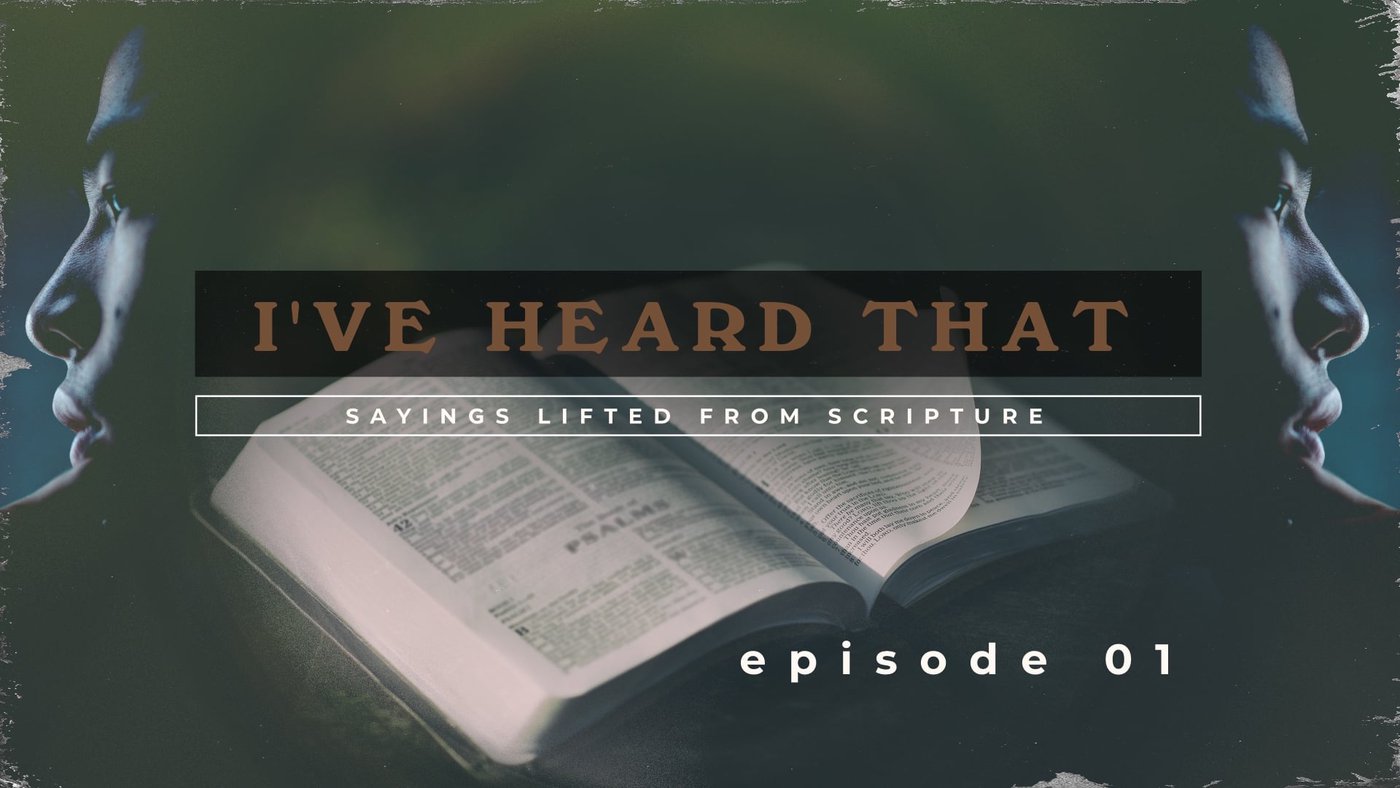 I'VE HEARD THAT 01: Things Going Right
I've Heard That
Things Going Right
Things Going Wrong
People & What They Do
FIGHT THE GOOD FIGHT
12 Fight the good fight for the true faith. Hold tightly to the eternal life to which God has called you, which you have declared so well before many witnesses.
-1 Timothy 6:12 NLT
RISE AND SHINE
1 "Arise, shine, for your light has come, and the glory of the Lord rises upon you. 2 See, darkness covers the earth and thick darkness is over the peoples, but the Lord rises upon you and his glory appears over you. 3 Nations will come to your light, and kings to the brightness of your dawn.
-Isaiah 60:1-3
GO THE EXTRA MILE
41 If a soldier demands that you carry his gear for a mile, carry it two miles.
-Matthew 5:41 NLT
BY THE SKIN OF YOUR TEETH
20 I have been reduced to skin and bones and have escaped death by the skin of my teeth.
-Job 19:20 NLT
APPLE OF MY EYE
8 For this is what the Lord Almighty says: "After the Glorious One has sent me against the nations that have plundered you — for whoever touches you touches the apple of his eye —"
-Zechariah 2:8
BE A MAN
2 I am going where everyone on earth must someday go. Take courage and be a man."
-1 Kings 2:2 (NLT)
THERE'S NOTHING NEW UNDER THE SUN
9 What has been will be again, what has been done will be done again; there is nothing new under the sun."
-Ecclesiastes 1:9
A LITTLE BIRDIE TOLD ME
20 Never make light of the king, even in your thoughts. And don't make fun of the powerful, even in your own bedroom. For a little bird might deliver your message and tell them what you said.
-Ecclesiastes 10:20
NO REST FOR THE WICKED
21 There is no peace," says my God, "for the wicked."
-Isaiah 57:21
SALT OF THE EARTH
13 You are the salt of the earth. But what good is salt if it has lost its flavour? Can you make it salty again? It will be thrown out and trampled underfoot as worthless.
-Matthew 5:13 (NLT)
STRAIGHT AND NARROW
14 Because strait is the gate, and narrow is the way, which leadeth unto life, and few there be that find it.
-Matthew 7:14 (KJV)
THE TRUTH WILL SET YOU FREE
32 Then you will know the truth, and the truth will set you free.
-John 8:32
BETTER TO GIVE THAN TO RECEIVE
35 And I have been a constant example of how you can help those in need by working hard. You should remember the words of the Lord Jesus: 'It is more blessed to give than to receive.'"
-Acts 20:35 (NLT)
TWINKLING OF AN EYE
52 In a moment, in the twinkling of an eye, at the last trump: for the trumpet shall sound, and the dead shall be raised incorruptible, and we shall be changed.
-1 Corinthians 15:52