Christmas Eve Service 2021
Friday, December 24 - 5:30 pm in person / 8:00 pm online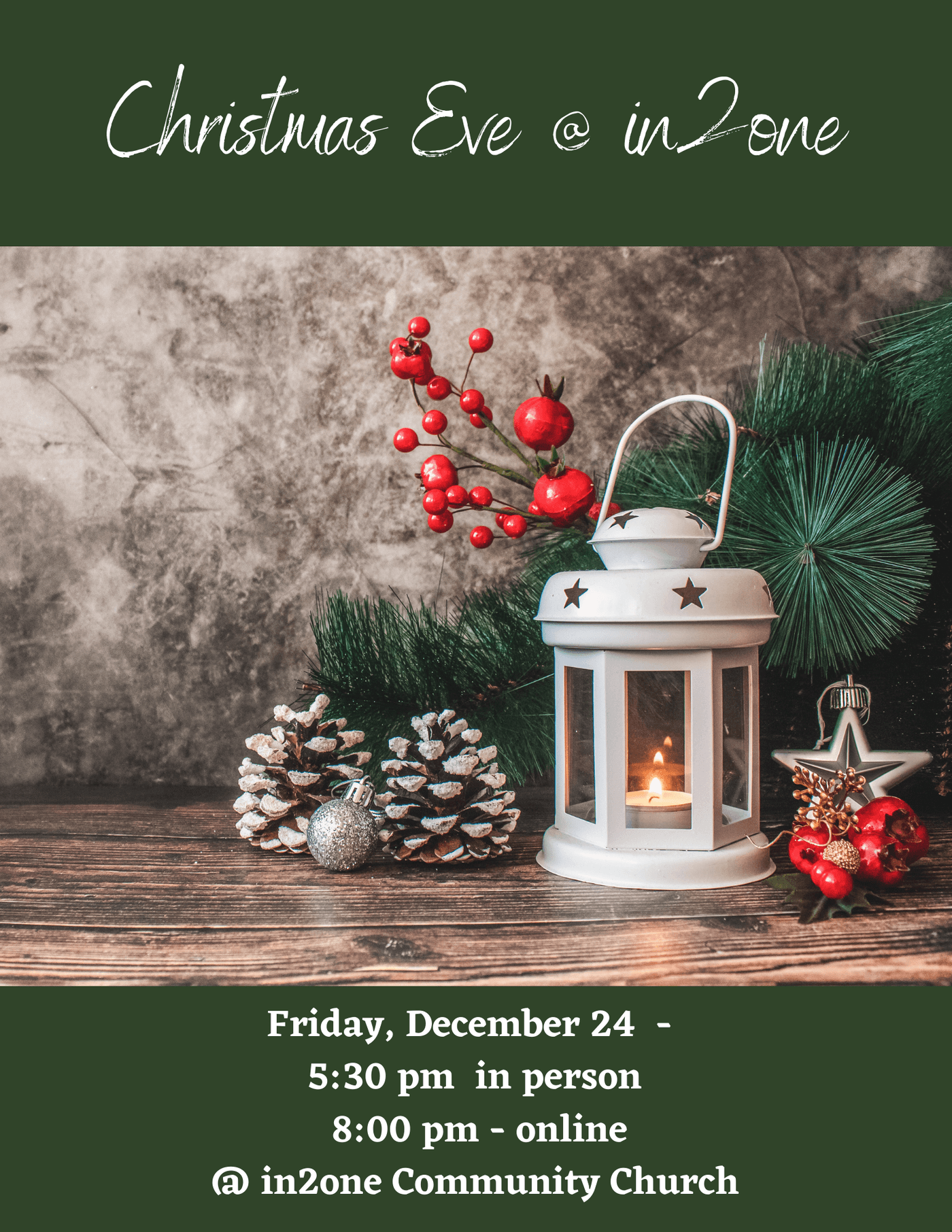 Who's it for?
You. Your family, that includes your kids. Your friends.
For those who celebrate Christmas.
For those who are interested in learning what Christmas is about.
For those who would like to participate in an event that delights in the Christmas story.
For those who are tired of the movie versions of the "REAL MEANING of CHRISTMAS."
Join us to actually look into what Christmas was and still can be today.
When is it?
Friday, December 24th, 5:30 -6:30pm in person, 8:00 pm online.
Early enough for the whole family to come and to start the celebrations on the right foot.
Come, enjoy the celebration with friends, family, in-laws, whoever, and then still have time for activities at home before bed :)
Reserve your space!
In order to ensure that we are loving and caring for our in2one church family and community, we need to ensure we following physical distancing and capacity limits as mandated by the government. This means we need to know in advance if you plan to attend the Christmas Eve service. We ask that you let us know you are coming by clicking on the link below and reserving a space for yourself and any family or friends you plan to bring to the in-person Christmas Eve service. It will just take a minute! We promise! Thanks in advance for taking this step to show love and consideration for all of our in2one church family!
Why?
This is an absolutely great way to build some tradition into your lives.
Celebrate with us.
Get refocused on the Hope, Peace, Joy & Love of Christmas.
Hear the original, organic, gluten-free, life-transforming story of God's love for YOU.
Let that sink in....
Slow down....
Take a deep breath....
Leave and still have time for fun at home, or time to travel.
Let your Christmas celebration be centred on gratitude for what has been given for you and for whom was given for you.
Jesus.
Eyes up, my friends.